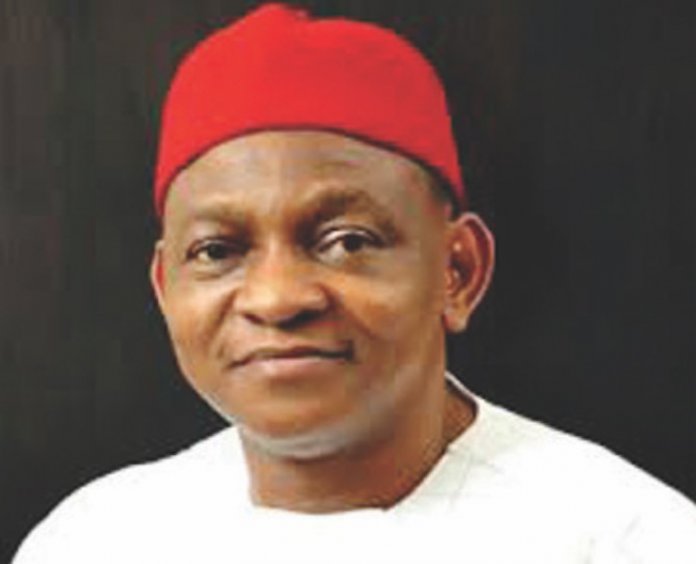 TRIBUTE
Demola Ojo
Sir (Dr) Obinna Uzoh, KSG, ESQ, is many things rolled in one. He is a lawyer, teacher, entrepreneur, industrialist, farmer, financial consultant, philanthropist, administrator and a politician.
Born March 17 1963, and happily married with children to Chief Mrs Herietta Obinna-Uzoh, he has so many qualities that make him a character worth emulating. He is unassuming, considerate, compassionate and selfless. He doesn't take relationships and friendship for granted, and has made service a passion and engages in philanthropy, with no strings attached. Schools, communities, churches and individuals have benefitted from his benevolence.
Uzoh has awarded scholarships to students in primary, secondary, colleges of education, polytechnics and universities; awarded special scholarship to indigenes of Anambra State in Medicine, Law, Accountancy and Engineering, and has built and donated a three-storey building for the Law Faculty of Madonna University Okija, Anambra State.
He has also built, donated and renovated schools across the country, constructed and equipped several computer and science laboratories in secondary and tertiary institutions in Anambra State, distributed textbooks and instructional materials to schools across Nigeria and established small-scale enterprises for the less privileged people across Nigeria.
Beyond education, Uzoh has provided boreholes, engaged in rural electrification as well as donated transformers to towns and villages in Anambra State. He built the All Saints Catholic Church, Ihiala, for his community, completed the St. Silas Anglican Cathedral, Ihiala, built and donated a three-storey youths hostel at the Holy Family Youth Village, Amansea, Awka to the Catholic Archdiocese of Onitsha for use by students of the Nnamdi Azikiwe University, Awka and built and donated an ICT and skill acquisition centre at the All Hallows Seminary, Onitsha.
Uzoh has also established a special fund for assistance to pregnant women, widows, disabled people and people with heart, kidney, lung, sight and spinal cord problems as well as donated drugs for free medical outreaches to St Charles Borromeo Hospital, Onitsha, for some select towns and villages in Anambra, among others.
If you think that Uzoh does this for pecuniary gains, you are mistaken. Someone once said that if Uzoh has done this much in the area of philanthropy, why not venture into politics? At that time, Uzoh was not interested in politics. He was thinking about business and service only.
However, apparently realizing that governance is an act of service and to some extent, philanthropy, Uzoh has eventually decided to join politics and contribute his quota to the socio-political development of his state, Anambra and Nigeria, in general. What could have caused this change of mind? He said as a politician, he will have more access to get the dividends of democracy to get through to more people.
In 2003, Uzoh joined the National Democratic Party (NDP) on whose ticket he contested the Anambra governorship election, along with Dr. Chris Ngige of the People's Democratic Party(PDP) and Peter Obi of the All Progressives Grand Alliance (APGA). One interesting thing is that during electioneering for the election, Uzoh showed that politics should be without bitterness.
A story was told how he and Peter Obi met on campaign grounds, but instead of clash and bitterness, they felicitated and even shared food. The election, which was marred by irregularities, produced Ngige as governor, but the results were eventually nullified by the courts, to ensure Obi's emergence as governor, a position he held for two terms.
Between 2003 and now, Uzoh's passion to serve the people has not waned. He has been in touch with his people. He knows their aspirations, needs and plight. He has helped them in his little way. The defamation of his integrity, good character and treachery associated with the murky waters of politics has motivated him to stay on course knowing that he is not a quitter particularly on issues that will benefit the majority of people in the society.
And as he marks his 57th birthday, his compassion, humility, patience, philanthropy, selfless service and finesse have remained his virtue. We wish him many more years of selfless service to God and humanity.