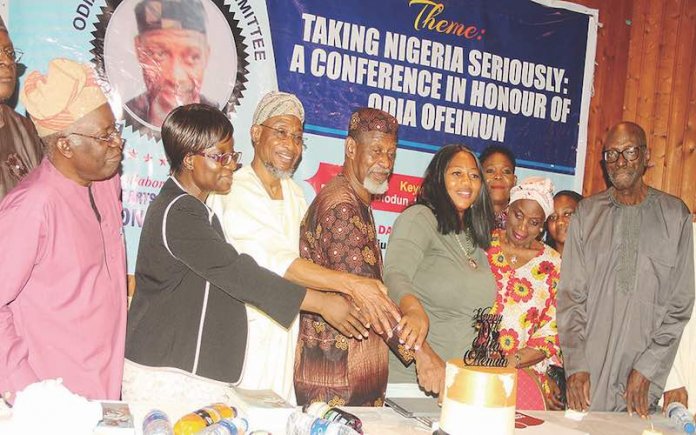 Yinka Olatunbosun
"I have always wished to be an old man," the renowned poet and polemicist, Odia Ofeimun said in his remarks at the international conference held in honour of his much celebrated 70th Birthday. The half-filled Julius Berger Hall, University of Lagos, Akoka echoed with laughter. Certainly, with the proliferation of anti-ageing creams and cosmetic surgeries in this modern world, it is an unusual thing to hear anyone say. But, Ofeimun was speaking from a place of privileged history of himself which he cared to share with his audience.
"They told my mother when I was young that I won't amount to anything. She was so frightened; she spent almost all her youth trying to get a second son. All of them were miscarriages. So, it became my responsibility to try to be something bigger than one son could have been. I had to look her in the face after one very bad miscarriage and said, 'Mama, I will not die; even if the leaves on the trees can be climbed by witches and wizard , they won't touch the hair of my head. Don't beg any pastor or Babalawo because I will survive.
"For me, being 70 is trying to celebrate all those Nigerians who have gone through the rough edges to survive. Irrespective of the naysayers, Nigeria will become a great country. I want to thank everybody for being here."
It was on this positive note that his 70th Birthday celebrations kicked-off in Lagos. The conference, convened by Dr. Wumi Raji had in attendance, the human rights lawyer, Femi Falana SAN and was chaired by Ogbeni Rauf Aregbesola, the Minister of Interior.
A leading Nigerian poet, Ofeimun is a man of many parts. He is a journalist, dance-drama producer, critic, columnist and public intellectual. He wormed his way into journalism from a small, sleepy community of Iruekpen where he was born. As a child, he started writing poetry which commanded attention. Having impressed the editor of MidWest Echo, a Benin-based newspaper, he was offered a job as a reporter in 1968. Ofeimun became a sub-editor at the paper before he left for Lagos the following year.
Lagos life was quite tough at first for Ofeimun as he had to do several jobs other than the real one that was his first love. He worked as a petrol attendant in Yaba, factory labourer at the West African Thread Company, Apapa. Between December 1969 and January 1970, he sat for O'levels and A'levels in General Certificate of Education (GCE) . Later, he worked as a third class clerk at the Ministry of Internal Affairs, Alagbon. He had a stint with the NYSC as an Assistant Divisional Officer prior to his post-graduate studies at the University of Ibadan.
Since 1970s, he has been a player in the intellectual and political space buoyed by his job as a private secretary to the late Nigerian nationalist and politician, Chief Obafemi Awolowo between 1978 and 1981. He was a member of the editorial board of The Guardian from 1983 to 1988, Chairman of the Editorial Board of The News, Tempo and AM NEWS from 1993 to 1999.
His works include volumes of poetry, collections of critical essays, anthologies of cultural and political interventions and a compilation of his journalistic writings.
One of his poetic masterpieces reflecting his ordeal with the military government in Nigeria include "I Am a Writer" written exactly 10 years after the British High Commission denied him visa to enjoy a facility provided by the British Council to see the London Book Fair. And then, "only for General Abacha's goons to seize my passport, my visa application to be rejected again, this time, with a sticker on my passport, which says 'he claims to be a writer," he added.
With the theme, "Taking Nigeria Seriously," the intelligentsia made interventions with a variety of paper during the panellists' sessions. The sessions were preceded by the keynote address delivered by the leading critic, Prof. Biodun Jeyifo , a Professor Emeritus and Research Professor, Comparative Literature, Harvard University who remarked that Ofeimun is not just prominent but has deliberately prepared himself for the role.
"He is sensitive to the polarity of the oppressed and the oppressor," Jeyifo said.
In his intervention titled "Odia Ofeimun and the Dialectics of Nigeria's Long Revolution", G.G. Darah voiced his opinion on the optimism of Ofeimun for one Nigeria.
"It is a wrong-headed aspiration for anyone to take Nigeria seriously. We have lost more human beings in Nigeria 50 years after the civil war than we did during the war," he said.
For Onookome Okome who described Ofeimun as a public intellectual, Ofeimun may not be "a scholar or an academic, but he is committed to practical application of his knowledge."