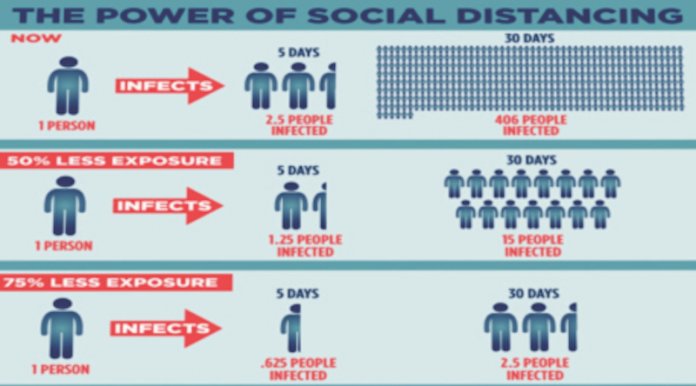 Toyosi Olatunji
It's no longer news that a pandemic has been declared globally due to COVID-19, with many countries declaring national emergencies and if you are paying attention, you will know that it is critical to be proactive about handling this situation.
So far in Nigeria, we have 12 "confirmed" cases and possibly several more undetected cases, given the volume and frequency of Nigerians' travelling across the world. I don't know if we should attribute the current low numbers to luck or what have you, but what I do know is that we all have a collective responsibility to curb the spread of this virus before it is uncontrollable. I mean, I know we don't even have accurate population figures, much less a way of tracking or monitoring the number of people in each community and not to incite fear but let's face it, the spread of the virus here would be of exponential proportions. That said, it probably helps that over 60% of our population fall in the youth (30 years and under) category and are therefore more likely than not, to survive if infected. So there is hope, but we each must still play our part.
In certain demographics more than others, the hygiene factor leaves a lot to be desired, yet, it is not enough to rely on improved standards of hygiene in schools, markets, mass transit, salons, churches, mosques, streets, etc… You see, viruses are contact-borne not airborne and being as near as six feet to an infected carrier who merely sneezes, could mean that you breathe in the droplets, it's gross, I know…but it's the truth.
And here is where social distancing comes in…Social distancing has been touted as one of the more effective ways of preventing the spread of contagious diseases and I hear you ask – '"what exactly is social distancing?" And, better still, "how practical is this in our society?"
Simply put, social distancing means to limit direct physical contact by maintaining significant distance (minimum 1 metre / 3 feet) in social settings and/or cancel events, which involve crowds and in which this manner of distancing will not be possible. To this end, companies who employ more than 30 people will need to think about activating the work from home (WFH) option or limiting the number of people who physically show up at offices.
Social distancing means that we should abstain from getting too close to others, hugging, shaking hands, giving pecks and all other contact-greetings. It means cancelling all non-essential travel and any other plans which involve being in gatherings where you can not control who you are exposed to. It means that churches, mosques and other such regular gatherings will need to consider virtual options for their flock and for those who choose to hold their services, it means not holding hands for communal prayers, or sharing mats or chalices. It means weddings and birthday parties will need to be postponed or scaled down quite heavily.
Social distancing means isolating yourself if you are feeling ill, especially if you are sneezing or coughing. And if you are a fitness enthusiast, it means to be extra careful about disinfecting gym equipment before use and perhaps avoid classes for the time being. Visits to salons (hair and nails), barber-shops, spas and the like should also be cut down or avoided. Eating and drinking out should be in moderation. Employers and business owners have as much a responsibility as consumers in ensuring that these are adhered to. For those who employ domestic staff, especially nannies, maids, cooks, stewards and drivers, you have a responsibility and duty of care to them and your household to ensure that they are well-versed with the required standards of cleanliness and provide them with hand sanitisers, wipes etc to aid them to adhere to this. In addition to this, for those who can afford to do so, please give your staff a little bit extra to buy emergency supplies in preparation for what might be ahead.
Social distancing is not self isolation or barricade, nor does it require panic buying, stockpiling and hoarding of supplies. It is not an indication that one is infected, it actually is a preventative measure that ensures that personal spaces are established and respected. Of course, it makes sense to prepare for a period of quarantine or lockdown, but we need to act within reason and not let the fear of the unknown take over.
We are all now in uncharted waters and although there is no playbook to follow, we really must prepare to make the necessary sacrifices to preserve our lives and the health of those around us. Let us self-isolate and get tested if we experience symptoms, rather than self-medicate as many people are wont to do.
Finally, social distancing is about creating physical distance, not emotional. Care for others must be heightened at this time – let us all reach out to our family, friends, colleagues, neighbours, with calls and messages to ask after each other as frequently as possible. The truth is many people are dealing with life's problems and their attendant anxieties, to now add social distancing. A simple phone call to ask 'How are You?' can save a person's life. Many people are rightfully frightened about the economic impact of this global pandemic on their jobs, businesses and overall financial stability. This will have an impact on mental health in ways that one can not even begin to imagine, so, let us each be our brothers' and sisters' keeper.
Stay safe in these contagious times!
––Toyosi Olatunji is a Strategy and Financial Services Professional and also a budding Life & Business Coach based in Lagos.