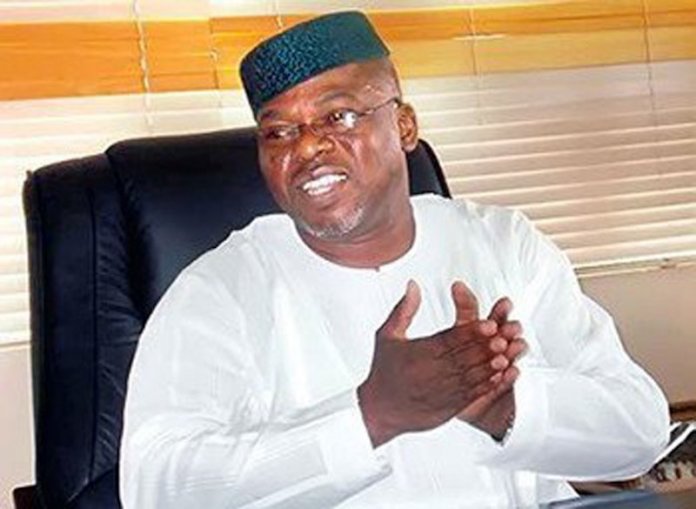 The recent defection of Mr. Segun Oni from the ruling APC to the opposition PDP comes with a lot of suspicion, writes Victor Ogunje
It is no longer news that a former governor of Ekiti State, Segun Oni, has returned to his former party, the Peoples Democratic Party (PDP) after six years of hobnobbing with the ruling All Progressives Congress (APC).
Oni, who joined the APC in a controversial fashion in 2014, held a strategic position as Deputy National Chairman of the ruling party. This underscored the level of respect the party and its machinery had for him as well as the relevance he commanded during his stay in the party.
A lot of theories had been propounded as spurring Oni, who was respected for his principled stand on political issue, to take this action.
To some, it was a chess game towards the 2022 governorship poll. The pulse within the PDP vividly attested to the high stakes to take over the state in 2022, when Dr. Kayode Fayemi, who had always been a nemesis to them wont be on the ballot. With this game, they perceived Oni as the joker and a man, who could turn the table in PDP's favour.
But some members of APC, who could reason from a broader spectrum, perceived the 2022 game plan as a mere smokescreen. They opined that the game surrounding Oni's defection was beyond the facade of governorship poll, but has strong tie with the 2023 presidential race that is currently unsettling the APC.
There is no gainsaying the fact that the intrigues ahead of the presidential race have polarised the Southwest into two factions. As of now, a wide cleavage is within the ranks of the APC, with some rooting for Bola Ahmed Tinubu, who has always had his eyes on the seat and those queuing behind Governor Fayemi.
The resonating effect was what was witnessed in the hot and keen battle to oust the APC National Chairman, Adams Oshiomhole, an onslaught he narrowly survived.
An ardent follower of the political situation of the Southwest would subscribe to the fact that the five governors on the platform of APC are sharply divided into Pro-Tinubu and Fayemi factions.
This syndrome had created the impression that the battle line has been drawn and all machineries are being deployed into the rumble for the two gladiators to outwit each other. Under this circumstance, Oni's new move is being insinuated to be a deft and calculated permutation to cause confusion in Fayemi's camp, with base in Ekiti and merely struggling to make inroad to other states.
Those who belong to this school claimed the game plan before now was to allow Oni to remain in APC and divide the party ahead of the next poll, but he was caged by Fayemi's seemingly formidable political machinery in Ekiti and the alleged plot could not hit the expected target.
In actual fact, pushing the battle to an opposition terrain, where they could galvanise support and muster enough stature to do a colossal damage to Fayemi's political structure, was an option B, according to a source. Having adopted this option, time shall tell whether actions being taken by Oni and his loyalists will either confirm or dispel this widespread insinuation.
The general perception among the PDP members has been that former Governor Ayodele Fayose is close to Tinubu on the project 2023. Of recent, a member of the party loyal to Senator Biodun Olujimi, branded Fayose as a double-edged politician, who fraternises with APC in Lagos and claims leadership of PDP in Ekiti.
This sudden coalition of unlike-minds, Oni and Fayose, who had rejected each other like lepers in the past, lends credence to that assumption that the 2023 presidential race might be part of the focus of this rumble.
Another factor that corroborated the fact that all is not well between Tinubu and Fayemi, lucidly manifested in the fight that ensued sequel to the appointment of ex-governor of Oyo State, Senator Abiola Ajimobi, as the Deputy National Chairman(South) of the party.
One can't contest the fact that Ajimobi and Fayemi were close political associates and the appointment ought to be widely received by everyone. But the acrimony it generated from Ekiti APC signaled that the two feuding leaders are using every instrument to fight for political survival.
The Ekiti State chapter of the party had filed a suit contesting Ajimobi's appointment on account that it violated the principle of micro zoning in the party. The Ekiti APC dares not resist Ajimobi, if Fayemi had been favourably disposed to the appointment. It was akin to the biblical case of the "hands of Esau and the voice of Jacob".
But the Publicity Secretary of the Pro-Oni's political platform, Atunse Ekiti Movement, Dr. Bayo Arowolaju, said Oni remains one of the most principled politicians ever existed in Ekiti and that he can't be used by anybody to fight political battle or shady deals. He said pointedly that the defection has no link with 2023 presidential poll.
He thought it was rather insulting and demeaning that a former governor would be so underrated to the extent that he won't know when to leave a party that had done a lot of damage to his supporters except he was dictated to.
Arowolaju clarified that Oni's defection to the Peoples Democratic Party (PDP) was not motivated by desperate quest to be governor in 2022 or being used by anyone for 2023, saying he decided to return to his former party owing to alleged discrimination and machination against his supporters by Governor Fayemi and his loyalists.
Arowolaju clarified that the decision was part of the collective resolution taken by Oni's loyalists in view of alleged maltreatment being inflicted on them in APC. He said they found the PDP more captivating at this time having learnt its lesson from the defeat of 2015 general election, describing the opposition as better organised and more democratic than it was in the past.
"At the Meeting held at Ifaki Ekiti and attended by 250 Oni's core loyalists, where they resolved that the supporters were being treated like lepers in Ekiti APC.
"It was our observations at the meeting that Ekiti APC doesn't believe in democracy from ward, local government and state levels, while the appointments to government positions at the state and federal levels are limited to family members, friends and associates of the governor.
"Dr. Kayode Fayemi and his group in Ekiti introduced a novelty of nepotism and clannishness in selecting people into elective positions that is not known to democracy anywhere in the world. In the last election, no nomination form was made available or refund made to any Oni's supporters.
"Many of our members were threatened with expulsion and suspension why some handpicked ward executives were instigated to suspend him indefinitely. We sent a petition to the NWC about this irresponsible action, but nothing was done.
"For all these, Atunse Ekiti sees no future for their members in APC, because of deep rooted impunity and display of hatred for Segun Oni. This Group thereby advised their leader, Segun Oni, whom they have been following for his integrity, honesty and incorruptibility and records of performance anywhere he serves to lead them out of APC to PDP," he clarified.
Defending their return to PDP, Arowolaju said, "The party has made mistakes and apologised but things are getting worse in APC. We have contributed to APC but get nothing in return, so our defection is justifiable and not self-serving," he said.
The way the APC accepted Oni's defection underscored that the party suspected a foulplay in his defection, but this they claimed wouldn't affect Fayemi in a way.
Publicity Secretary of APC, Hon. Ade Ajayi, said though the party doesn't suspect that Oni was pursuing 2023 agenda, he insisted that the APC political machinery was well positioned to curtail whatever onslaught Oni was pursuing against Fayemi.
"We don't believe in insinuation, our belief is that Oni was being haunted by his political antecedents. In 2007, Oni came third in the PDP governorship primary, but he was catapulted to number one and became the candidate.
"He was rigged into government and Governor Fayemi challenged him and he won eventually. Shortly after he joined us, he was appointed the Deputy National Chairman of our great party. He contested for governorship primary in 2018 and lost and he immediately went to court to challenge Fayemi's eligibility and lost the battle again.
"So, he has never hidden his desperation to be governor. But let him know that whatever he was pursuing, whether governorship or any other agenda, he will fail. He is no match for Fayemi in Ekiti and we have nothing to fear.
"But as per presidential race, we don't believe that he is being used by anybody, but let us keep our fingers crossed and see how event unfolds," he said.
In the next few months, Ekiti will become a theatre of war and the political intrigues will be tensed and pulsating. As event unfolds, every agenda being pursued will be unveiled and interested Nigerians will know whether Oni took an altruistic position with his defection or was out to play a hatchet's game.