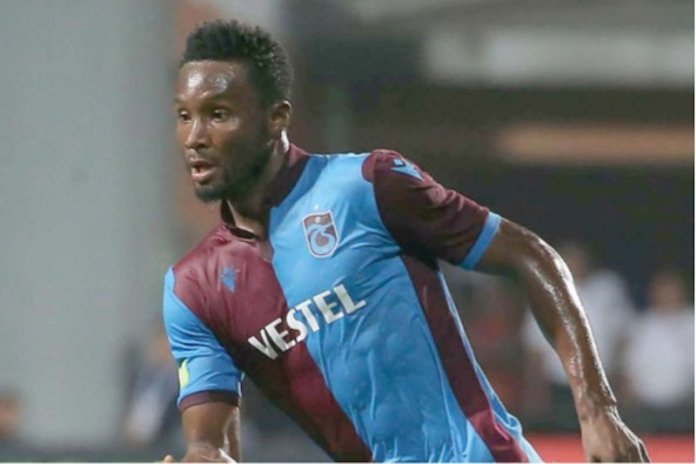 If there is one thing that is not disputable about Mikel Obi, it is his act of bravery. Twice, his father was kidnapped and on both occasions, he starred for Chelsea and Super Eagles respectively whilst his father was still in the hands of his captors. Just last week, the former Nigerian national team captain again rose to the occasion by refusing to play for his Turkish club, arguing that league should have been postponed like their European counterparts as a safety measure against the deadly coronavirus.
However, while most hail the courage of the former Stamford Bridge midfielder, some school of thoughts are of the opinion that he was already tired of the Turkish side and just capitalised on the deadly virus for an excuse Former Nigerian captain and ex-Chelsea midfielder John Mikel Obi and Trabzonspor have parted ways by mutual consent, days after expressing his concerns about the Turkish Super Lig continuing amid the global coronavirus pandemic.
The 32-year-old played a crucial role in helping Trabzonspor soar to the summit of the Super Lig after joining Black Sea Storm as a free agent on a two-year deal last summer, at the end of his brief stint in the Championship with Middlesbrough.
Obi's refusal to play in the top of the table clash between Trabzonspor and Istanbul Basaksehir is said to be the reason for the mutual termination of his contract and the club has said the Nigerian midfielder has given up his remaining wages.
"The professional football player agreement between our company and John Obi Mikel on 30.06.2019 start date 31.05.2021 has been mutually terminated. With a mutual termination agreement, the football player gave up all his forward-looking receivables," the club announced, The former Super Eagles captain had last weekend, criticised Turkish football authorities for not suspending the Super Lig season despite the spread of the coronavirus across Europe, stating he did not feel comfortable during the Covid-19 outbreak and called for the season to be cancelled.
On Saturday, Obi had written on his Instagram "there is more to life than football" and added: "I do not feel comfortable and do not want to play football in this situation.
"Everyone should be home with their families and loved ones in this critical time. Season should be cancelled as the world is facing such turbulent times."
The post, which was made a day before Trabzonspor's game against Istanbul Basaksehir, received positive responses from two fellow Turkey-based former Chelsea players.
Galatasaray forward Radamel Falcao replied "you are right John", while Didier Drogba said they were "words of wisdom".
The number of coronavirus cases in Turkey stood at six at the time of Mikel's post, though it has now leaped to 47.
The government has ramped up measures to halt its spread, closing schools and universities, holding sports events without spectators and halting flights to many countries.
Meanwhile, players from Galatasaray's basketball team released a joint statement urging the Turkish Basketball Super League to suspend games.
"We appreciate the Turkish government has taken measures to slow down the spread of the virus however we find it quite bizarre that we keep playing, despite it being behind closed doors," they said.
"We have seen how hesitation to take extreme action has provoked a spike in cases in neighbouring countries and we believe now is the time to take extreme action."
While La Liga, Serie A, Bundesliga, Ligue 1, MLS, Eredivisie and the Premier League have all postponed matches amid fears of coronavirus, fixtures are being fulfilled in the Super Lig and the Turkish government has confirmed all football matches will be played behind closed doors until the end of April.
Speaking on a radio programme on Wednesday, former Nigerian international Ifeanyi Udeze hailed Mikel for standing up for what he believed in, but said the speed at which the consensus for Obi to leave the club was reached leaves much to be desired.
"Leaving a club when it's not the transfer season is not something that comes easy between a player and a club, that is why I want to believe that Obi was already tired of the club and wanted a way out," Udeze opined.
Obi joined Turkish club Trabzonspor on a two-year deal with an option for another year.
He has been a free agent after his contract ended with Chinese side Tianjin TEDA. The veteran midfielder spent the last six months on loan at Championship side Middlesbrough.
"A 2 + 1-year agreement was signed with the free captain of the Nigerian National Team, Professional Footballer John Mikel Obi, with a one-year option to transfer to our club," Trabzonspor had said then on their official website.
Trabzwonspor was Mikel's sixth club in his professional career which started at Nigerian side Plateau United, but it was at Chelsea that the midfielder enjoyed huge success winning two Premier League titles, three FA Cup trophies, a Football League title, the Champions League and Europa League.
Following the departure of Mikel from Trabzonspor his partner Olga Allegra replied a curious observer as to why he decided to part ways with Trabzonspor.
The explanation on the official Instagram account of Allegra on Wednesday, March 18th replying the observer said, "You are vile, but My man is a Hero. Family over everything. Good friends show their love in times of trouble, not just in times of happiness. — Euripides.
"Thank you Trabzonspor fans that understand and for those who don't, I'm sorry, but family first no matter what.
Mikel also officially spoke after he parted ways with Trabzonspor with another message on his Instagram account which said, "I would like to thank all the fans for their support. I also want to say thanks to all my teammates, technical crew, medical team and kit men Ayatabe for all we've achieved this season so far, wish you guys best of luck in winning the league. It was one of the hardest decisions I've had to make, but in the current situation, we all need take care of our families, spend time with them and protect them."